These are photos of a recent fire that could have been prevented, don't let it happen to you.  It was caused by a slow exterior water leak. Keep yourself and your family safe.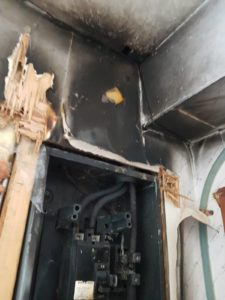 Did you know? If your lights dim or flicker, you shouldn't ignore this.  It could be a sign of a much larger problem.  All things wear down and you may be vulnerable to electrical fires especially from putting off panel upgrades, if you have an old fuse box, if breakers don't reset, or circuits that keep tripping.  If you have oversized fuses, if there is natural deterioration over time, if your home has outdated aluminum or knob and tube or even previous contractor or homeowner DIY mistakes.
If the electrical panel has smoke coming out of it or smells like burnt wiring, or worse flames are coming out of an outlet, panel, or electrical device turn off the main circuit breaker only if it safe to do so!  In case of fire evacuate the premises immediately and call 911 to contact the Fire Department.  Then call a certified electrician to have a thorough electrical safety inspection done.
Rooham Electric's fully licensed and certified electricians can provide a detailed Electrical Safety Inspection to ensure all wires and components meet legal safety standards set out The Canadian Electrical Code in BC.
The benefits of a licensed contractor
They know all the legal requirements pertaining to regulated gas and electrical work and have the training and expertise required to do the job safely
They will obtain the required permit(s) on your behalf and make sure the work meets all code requirements
They will manage the inspection process and repair all deficiencies
When the time comes to sell your house, buyers, realtors and lenders may require proof that all regulated gas, boiler, and electrical work was done with permits to help ensure the house is safe for future occupants.
Retrieved from Technical Safety BC at: https://www.technicalsafetybc.ca/