Did you know? New building code requires combo smoke detectors and carbon monoxide alarms installed in hallways and on every floor of your home including the basement.  As well as, smoke detectors in all bedrooms or sleeping areas. Smoke alarms save lives.
The government of Canada states that, "being prepared is your best defence against a fire in your home" and Rooham Electric agrees.  Our electrician's tip of the day is to test all your smoke alarms (even those hardwired) every month, replace the batteries every year, and the actual device every ten years.
Some people use daylight savings time as a reminder of when to change the batteries.  Here is a photo of Shawn Ha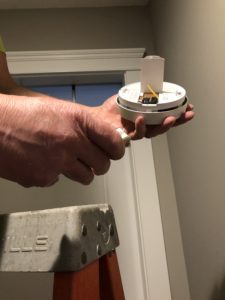 mling, the owner and operator of Rooham Electric changing the batteries of his smoke detector in his home.
If you have a home built prior to hardwired smoke detectors, let us give you a free estimate to install new ones.  It is not as much money as you might think.
Be safe and minimize your family's risk of injury from the staff at Rooham Electric.
Retrieved from Fire safety in your home.  March 4, 2018: https://www.canada.ca/en/health-canada/services/home-safety/fire-safety.html