Get Liberty For Your Home Security
Rooham Electric is proud to offer Liberty home security solutions. Liberty utilizes the latest technology to provide Security, Automation, and Energy Management solutions customized to fit your lifestyle.
www.libertysecurity.ca/roohamelectric
From your smart phone, tablet or computer, you can arm or disarm the system, lock and unlock deadbolts, control your thermostat, turn on and off appliances and lights and even close and open the overhead garage door. Or you can just program it all to happen on a schedule that fits your lifestyle.
Packages
Liberty Security provides customizable residential packages for wireless, hard wired, or hybrid home security and alarm systems. Each package contains items that can be substituted for other items of equal value and will be designed by a trained security professional. All systems include a wall mounted keypad, siren, control panel, back up battery, lawn signs, and warning decals. And best of all, we don't loan or rent our equipment like some companies, it's yours to keep!
Contact us at Rooham Electric for more information.
We monitor everything because anything can happen.
Our home security systems are easy to operate and can be customized to fit your lifestyle. We can install wired, wireless or a combination of devices that best suit your needs. Liberty Security understands the importance of protecting and securing what you love and value. A monitored security system can protect your family and home from the following: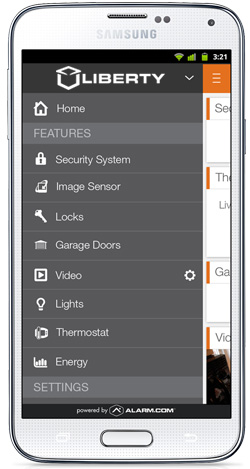 Intrusion
Annually, 1.2 million Canadians fall victim to a property crime and 300,000 are victims of a violent crime. Liberty Security will complete a security assessment and develop a complete solution that protects you from unwanted intruders.

Smoke & Fire
In 37% of the homes where fire and death occur, the smoke alarm was inoperable due to the battery. Liberty Security can ensure a monitored smoke detector is always working and if fire is detected, Monitronics will dispatch a fire and rescue crew to your house within minutes – whether you are there or not.
Carbon Monoxide Poisoning
CO poisoning causes over 300 deaths annually in North America. CO is colorless, odorless, and undetectable by humans, but with a monitored CO detector, it will sense it immediately. You will be contacted immediately and emergency help will be sent if required.

Flood & Water Damage
Flood related insurance claims in Canada are estimated to be $140 million per year. Early notification can prevent or reduce the effects of flood-related damage. Liberty Security can install flood sensors in the basement, laundry room, or any other location where water damage may occur.

Extreme Temperature
Liberty Security can install temperature sensors that monitor abnormal changes in temperature, alerting and saving you from a costly and unfortunate outcome, resulting from overheating or freezing.